Welcome to the second part of my NBA mock draft series. You can check out the first part here!
Like last time, I used the Tankathon Lottery Simulator to set the picks. Unlike last time, I completely forgot to take a screenshot of the order. Bear with me though. I promise I didn't make this order up. With that out of the way, let's get right into the second installment in my mock draft series!
15. Orlando Magic: Tyrell Terry
(Stanford, Fr. PG/SG)
I firmly believe that the Orlando Magic have the potential to break into the upper echelon of the Eastern Conference next year if they play their cards right. Jonathan Isaac is an incredible defender. Markelle Fultz and Aaron Gordon provide a youthful scoring punch which is complemented by the dependability of Nikola Vucevic. They just need an extra piece to put them over the top. Rather than draft for pure potential, the Magic ought to draft a player who can contribute right away. To put it simply, the Magic are a terrible three-point-shooting team. They need a guard who can shoot consistently.
Tyrell Terry may not have the upside as some of the remaining guards, but he can shoot the lights out on any given day. He shot an impressive 40.8% from beyond the arc in college. Moreover, he has the off-ball movement necessary to thrive in the perimeter-oriented modern NBA offense. However, defense is an issue for him. His undersized frame holds him back on defense but, unlike Trae Young, he actually tries to guard people. This is exactly why he would be a great fit for the Magic. Even if stronger, more athletic guards blow by him, they'll still get their shots swatted by Isaac or even Mo Bamba and his 7'10" wingspan.
16. Minnesota Timberwolves: Precious Achiuwa
(Memphis, Fr. PF/C)
After drafting Anthony Edwards first overall, the Timberwolves look to shore up their interior presence. KAT has shown improvement inside, but he's nowhere near the rim protector the Timberwolves need him to be. Additionally, the Timberwolves are playing Juan Hernangomez at the four. Hernangomez is decent but definitely not a long term starter. With that in mind, the Wolves pick Achiuwa, the athletic big out of Memphis.
While he's still very raw, Achiuwa has the size, length, and speed to defend 3-5. He can finish around the rim and crashes the boards with tenacity. His archetype is slightly dated in the modern NBA, as he struggles to do anything involving shooting, but for a team lacking defensive effort, he would fit in perfectly.
17. Boston Celtics: Daniel Oturu
(Minnesota, Soph., C)
If you think I'm overhyping Oturu just because he's from Minnesota, you're probably right. But seriously, Oturu is massively underrated. He was recently featured in a Bleacher Report article you can find here, and I'm so glad he's finally getting the recognition he deserves. The bulky center averaged 20 and 10 in his sophomore season at Minnesota. He combines old-school post moves with a developing three-point-shot. The Celtics need much more depth at the 5, and Oturu gives them a scoring burst and solid interior defense. His back to the basket playstyle may not mesh well the Celtic's dynamic offense, but the potential of a 6'10″ beast who can beat you from the inside and the outside is too much for the Celtics to pass on.
18. Dallas Mavericks: Josh Green
(Arizona, Fr., SG/SF)
Green is a 3-and-D wing who should immediately make an impact off the bench. He's a defensive swarmer who understands rotations and has quick enough hands to seriously bother opponents. He's coming off a shoulder injury which could be a red flag. He's also not much of a playmaker, but having Luka Doncic on the floor allows him to fit as an above-average shooter off screens.
19. Milwaukee Bucks: RJ Hampton
(New Zealand Breakers, 19, SG)
The Bucks are easily the best team in basketball and my pick to win the finals this year. By selecting Hampton, they turn their eyes towards the future and shoot for the moon with the streaky but exciting guard who last played in the NBL. He struggled to defend bigger, faster players in the NBL and his jump shot is nowhere near what it needs to be for him to thrive in the NBA. The Bucks' excellent player development pipeline should expedite his growth. A fully developed Hampton would be a nightmare for defenses who already have to deal with the 6'11" Greek guy.
20. Brooklyn Nets: Jalen Smith
(Maryland, Soph., PF/C)
The Nets are in a unique position. They have two of the NBA's best players in injured reserve right now, not to mention a very talented young core who managed to carry the team to the playoffs without help from KD or Kyrie. The Nets can seriously contend next year. With this pick, they look to add floor spacing and versatility to their frontcourt.
Jalen Smith is a solid shooter (36.8% from behind the arc in college) and an athletic playmaker with the speed and ballhandling to run the floor like a guard. His defensive IQ is questionable, but he'll be playing alongside two exceptional rim protectors in Brooklyn (Jarrett Allen and DeAndre Jordan). In a few years, he could develop into a solid starter or a high energy bench player.
21. Denver Nuggets: Cole Anthony
(North Carolina, Fr., PG)
Denver will be looking to shore up the frontcourt and Cole Anthony projects to be a pure scorer who should be able to provide a degree of playmaking support. His freshman season at North Carolina was underwhelming, to say the least, but his flashes of potential and dominance in high school make him a great pick. He struggles to make accurate passes and often takes very bad shots, but he would be a good fit for a team that may lose some of its best frontcourt players next season.
22. Philadelphia 76ers: Paul Reed
(DePaul, Jr., PF/C)
Philly should be much better than they are right now, but Embiid and Horford aren't meshing well together. Still, the 76ers have too much star power to draft for the future. Picking Paul Reed would instantly bolster their frontcourt. Reed is an athletic, high energy defender with the ability to finish consistently around the rim. His jump shot is still developing but his game has had flashes of outside consistency. In the future, his more dynamic game could complement Embiid's lumbering "bully-ball."
23. Miami Heat: Jaden McDaniels
(Washington, Fr., F)
Even though McDaniels disappointed in his freshman season, the Heat will be captivated by his size and scoring potential. He's got the quickness and the jump shot, but his finishing ability isn't pretty. He's a high-risk high reward prospect that would fit nicely into the Heat gameplan.
24. Utah Jazz: Kira Lewis Jr.
(Alabama, Soph., PG)
Utah probably needs a point guard. Mike Conley is an incredible player (one of my favorites), but he's struggled all season. He's clearly in the twilight of his career. Kira Lewis Jr. is a lightning-quick scorer who could play well alongside Donovan Mitchell. He's a capable shooter and a solid finisher. He wouldn't be able to match a prime Mike Conley's defensive artistry, but he has all the physical tools to become a lockdown defender.
25. Oklahoma City Thunder: Robert Woodard II
(Mississippi St., Soph., SF)
The Thunder are set at the guard position and Steven Adams, in addition to being one of the nicest guys in the NBA, is a pretty good center. Woodard II provides perimeter shooting at the wing position (43% from downtown in college) and generally projects as a safe pick for a very good team.
26. Boston Celtics: Tyrese Maxey
(Kentucky, Fr., PG)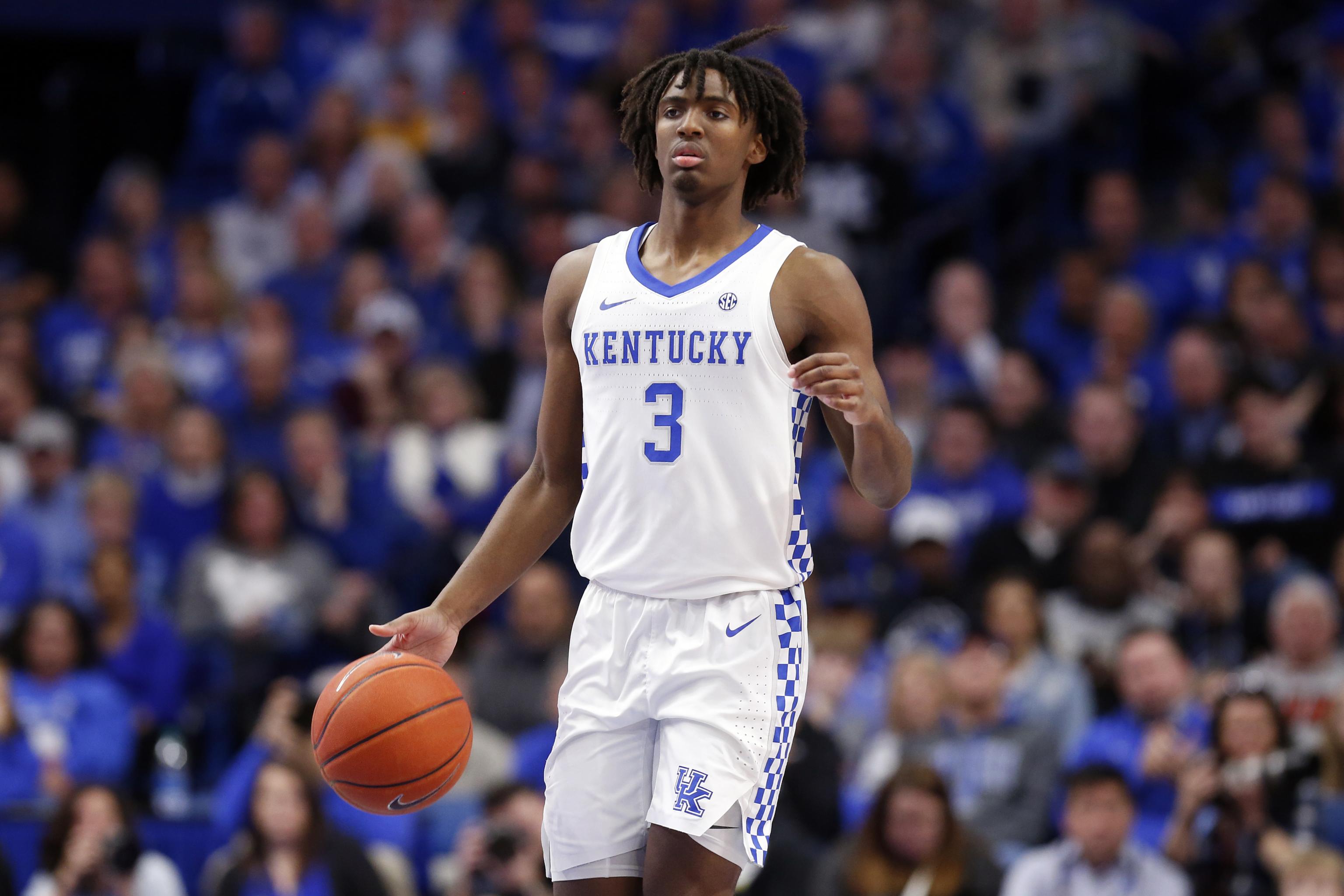 Playing Brad Wanamaker as a backup point guard is not sustainable for the Celtics. Drafting Maxey, a team-oriented lockdown defender, would be the best way to enhance the 2nd unit. He's got defensive IQ, intelligent ball-handling, and great intangibles (leadership, winning). He could be the key to push an underperforming Celtics team into contention.
27. New York Knicks: Jahmi'us Ramsey
(Texas Tech, Fr., SG)
Ah yes, the Knicks. The Knicks are terrible, but picking Deni (see my first mock draft here) is a great start. With the 27th pick, the Knicks add shooting support by picking Jahmi'us Ramsey. Besides having an awesome name, Ramsey is a solid spot-up shooter (43%) who sometimes slacks off on defense. Still, he's a good long term project for a struggling franchise.
28. Toronto Raptors: Isaiah Stewart
(Washington, Fr., C)
Marc Gasol and Serge Ibaka are getting old. Stewart won't be ready to take up their mantle right away, but if his development goes right he could be the linchpin of a terrifying interior defense. He can't really shoot and sometimes plays like we're still in the 80s, but he's got the motor, the hustle, and the size to be a great shot blocker.
29. Los Angeles Lakers: Theo Maledon
(ASVEL, 19, PG)
No matter how terrible the rest of the Lakers are, Lebron will carry this team on his back, with AD there to assist. At this point, the Lakers should just take the player with the best chance of becoming a solid contributor: Theo Maledon. The point guard from France has a knack for knowing where his teammates are on the floor and can shoot fairly well. He lacks explosiveness, but he shouldn't have to pick up a huge scoring load in Los Angeles.
30. Boston Celtics: Tyler Bey
(Colorado, Jr., SF)
The Celtics are back with yet another first-round pick. They've already picked a big and a guard, so why not pick a wing? I'm only kind of joking at this point. From a roster standpoint, Tyler Bey (no relation to Saddiq) actually fits very well. He's a great defender and inside scorer who would develop well under the tutelage of Brad Stevens.
That concludes my two part 2020 NBA Mock Draft series. Let me know what you think of my picks by leaving a comment below!