The NBA season is about to kick off in a few weeks and I'm very excited for basketball to come back. Ever since the 2014 NBA Finals, when Mr. Fundamentals Tim Duncan (my favorite player of all time) and the San Antonio Spurs crushed the Miami Heat, I've been a huge NBA fan.
Unfortunately, eight teams, including my very own Timberwolves, didn't make the cut to play in Disney World. These teams will now watch from the couch as the remaining 22 battle it out for the championship and try not to do anything stupid that'll get the season canceled again (@RudyGobert not again please). Until then, all we can do is make mock drafts, a worthwhile use of a few hours.
I used the Tankathon Lottery Simulator found here to make this mock draft. The lottery selections were: 
The Timberwolves lucked out and got the number one pick. The Warriors dropped two spots to pick third (thank god), and the Pistons and Wizards jumped up three and five slots respectively. In a stroke of bad luck, the Cavs dropped three selections to pick fifth. With that out of the way, let's get right into it. 
For picks 15-30, check out my follow up blog post here!
1. Minnesota Timberwolves: Anthony Edwards
(Georgia, Fr., SG)
With the first pick, the Timberwolves select for fit and cohesiveness rather than pure talent. LaMelo Ball is undoubtedly the most talented player in this draft, but only by a slim margin. Despite his upside, bringing Ball in would be a disaster for the timberwolves. His playing style would clash with the ball-dominant D'Angelo Russell and it's unlikely that he'd accept a bench role. Taking this into account, the Timberwolves select Anthony Edwards with the first pick.
Edwards provides instant scoring support along D-Lo and KAT at the 2. Edwards is a pure scorer, without a doubt. He brings incredible athleticism and shooting potential to the table coupled with consistent finishing capabilities. He's basically a flying fridge around the rim, using his bulk and strength to power through bigger defenders. He's also a competent passer (note: not elite) who can play the role of a secondary ball-handler if need be.
He's certainly not the most polished prospect, however. He often settles for inefficient contested mid-range jumpers and he doesn't shoot the three at an elite level. There are also nagging questions about his defensive IQ and effort, though he's certainly not as much of a defensive liability as D'Angelo Russell. Still, I think the Timberwolves will be enticed by his elite scoring potential, warranting his selection at number one.
Ceiling comparison: Dwayne Wade
2. Detroit Pistons: LaMelo Ball
(Illawara Hawks, 18, PG)
There is no possible way that LaMelo Ball falls out of the top two. He's an elite prospect with immense star potential. We might've ridiculed Lavar for his seemingly unfounded boasts, but the youngest Ball brother has lived up to all the hype.
The fit is simple: the Pistons need a star. Christian Wood was spectacular towards the latter half of what was otherwise an atrocious season for Detroit. After (rightfully) trading away Andre Drummond, Detroit is lacking true star potential. Derrick Rose and Blake Griffin are past their primes. Christian Wood has potential but much remains to be seen about his development. Drafting Ball would revitalize a franchise that has been floundering for the past decade.
He immediately brings generational playmaking to a team lacking a true ball-handler. Ball delivers crisp passes with almost zero effort, deftly whipping the ball to all corners of the court with either hand. His vision is unparalleled and his execution is flawless. Additionally, he has all the physical tools to be a two-way star. At 6'7, he can use his athleticism and length to make up for his deficiency in defensive IQ. He can finish around the rim gracefully and navigate through mazes of screens to get the open shot
Of course, much like rookie Lonzo, his form is atrocious. It needs to be refined before he can become a true threat from the outside. His defensive effort is also questionable. If he tightens up his fundamentals and actually tries on defense, he can become a lockdown defender.
Ceiling comparison: Magic Johnson with a jump shot (Lavar was right lol)
3. Golden State Warriors: Tyrese Haliburton
(Iowa State, Soph., PG)
This is an unconventional pick, but it's also an unconventional situation. The Warriors already have the makings of a championship-caliber team, with a former MVP (Curry), arguably greatest three-point shooter of all time (Klay), and a lockdown defender who just had a bad season (Draymond). They're ready to contend right away. To bolster their bench, they add the most underrated player in this year's draft: Tyrese Haliburton.
Haliburton is easily my favorite player in the draft pool. I envision him as a back-up to Curry who will anchor the warrior's bench and occasionally fill a 6th man role. With Haliburton leading the 2nd unit, the Warrior's will have a serious chance of winning their fourth championship in seven years.
Why is he so great? He has the highest basketball IQ of anyone in the pool. He's a genius playmaker with vision and execution that rivals Ball's. Moreover, his intangibles make him incredibly attractive. He has an unselfish, distributer mentality. He's a hard worker, a gym rat, and someone who obsessively watches films to improve his game. His hustle and tenacity on defense make him a coach's dream. He can even shoot the ball with consistency!
The only knock on his game is the lack of athleticism and burst off the dribble which Ball has. He may not have the star potential of Ball or Edwards, but he can be a key contributor and a valuable asset to any team in the league.
Ceiling comparison: Steve Nash
4. Washington Wizards: James Wiseman
(Memphis, Fr., C)
This is a no brainer. Washington sucks at defense and desperately needs interior talent. Wiseman checks both of those boxes with an added bonus of a developing jump shot. He brings elite athleticism, strength, and length coupled with speed and a very good vertical.
His most valuable asset is his athleticism, which I talked about earlier. Defensively, he's a tremendous shot blocking presence who should immediately make an impact. On the offensive end, he slots as a rim runner with the potential to become an Anthony Davis-Esque lob finisher. He can also function as a decent midrange shooter off of "pick and pops." If John Wall returns at full power, the Wall-Wiseman connection could be deadly for any team in the league. He could also function as a secondary scorer to offset the offensive load of Bradley Beal.
His jump shot is still developing and his post moves need to be refined before he becomes a true inside threat. His defensive IQ and timing on rotations could be improved as well. His upside will make him a very attractive prospect for a team sorely in need of an inside presence.
Ceiling comparison: David Robinson or Clint Capela with a jump shot
5. Cleveland Caveliers: Devin Vassell
(Florida State, Soph., SF)
Like the Wizards, The Cavs have one of the worst defenses in the league. Andre Drummond should boost it somewhat, but he isn't nearly enough of a defensive presence to single handedly turn the Cavs around. A defensive technician with a consistent three point shot, Vassell perfectly fills the Three and D role with the potential to become an elite offensive player.
He's a great catch and shoot player, shooting 41% from three this year. He can shoot cleanly off the dribble and has enough offensive awareness to not take inefficient, contested shots. On the defensive end, he has the IQ, size, and hustle to guard 1-4, maybe even the 5 if he bulks up a little bit. He can lockdown guards with ease and use his wingspan to disrupt stronger wings on the drive.
His offensive creation is still a work in progress at this point. He's not much of a shot creator, both from the inside and the outside. Additionally, his wiry frame makes him liable to get bullied by stronger power forwards or centers in the paint. However, his lockdown perimeter defense makes him one of the best defenders in this class.
Ceiling Comparison: Tayshaun Prince
6. Atlanta Hawks: Killian Hayes
(Ulm, France, 18, PG)
Killian Hayes has the highest upside in this draft, even higher than Lamelo Ball. Just watch him in action. He brings to the table extraordinary passing vision and a beautiful jump shot form. While he doesn't have the explosiveness of Anthony Edwards, he's able to finesse defenders around the rim and gracefully finish. On the defensive end, his versatility and hustle make up for a lack of physical tools, though his defensive rotation and technique are still very raw.
He lacks athleticism and consistent jump shooting, but high IQ and development will eventually rectify those concerns. The Hawks need defensive support, but Hayes is just too great of a talent to pass on. He could provide efficient offense and error-free playmaking to offset Trae Young's load.
Ceiling comparison: James Harden
7. New York Knicks: Deni Avdija
(Maccabi Tel Aviv, Israel, 19, SF)
The Knicks are a disaster. Barrett and Robinson are two of the NBA's most exciting young stars, but the Knicks have major holes to fill, both from a personnel standpoint and an organizational standpoint. The best way to plug the roster holes is with a do-it-all, truly positionless player: Deni Avdija. The 19 year old Israeli wunderkind is a swiss army knife who could develop into a player unlike any other seen before.
Avdija is comfortable operating as a point forward. His decent quickness and great playmaking make him a threat both as a ball handler and in the post. He's a scrappy defender and an unselfish distributor, willing to do the little things like setting screens or making the extra pass for his team to win. Finally, his height and dexterity make him a consistent finisher around the rim.
His shooting, unlike his passing, is incredibly streaky. He isn't enough of a threat from the outside to become a star in the perimeter-oriented NBA right away. If he develops a shot, it'll only complement his playmaking. He also can't defend in the post at all. The floundering Knicks need someone with the potential to become either a franchise player or a consistent contributor, and Avdija is easily the best fit.
Ceiling Comparison: Luka Doncic or Detlef Schrempf
8. Chicago Bulls: Obi Toppin
(Dayton, Soph., PF)
The fact that Onyeka Okongwu is still on the board is problematic, but Okongwu to the bulls would not be a good fit. The Bulls hold the dubious distinction of having an above average defense but an absolutely atrocious offense. They need an offensive spark, not another defensive stopper. Ideally, they'd take a playmaker, as Coby White is definitely not a distributor. However, guards like Tyrese Maxey or Nico Mannion aren't good enough to warrant being picked this high. At that point, the Bulls turn to the best offensive layer left on the board: Obi Toppin
The reigning National College Player of the Year, Toppin's offensive efficiency and perimeter shooting make up for his defensive shortcomings. He can score from the inside and the outside, and his ball handling and passing make him a great candidate for a point forward. Unfortunately, he's an atrocious defender by any measure. He can't guard the perimeter or the post with any success. Still, he'll be able to immediately compete with Lauri Markannen for the starting job or come off the bench, maybe even as a small-ball 5.
Ceiling comparison: Rasheed Wallace or David West
9. Charlotte Hornets: Onyeka Okongwu
(USC, Fr., C)
While entertaining, Charlotte has almost zero talent. Devonte' Graham went through a sophomore year Renaissance, but he's not the Hornets' star of the future. Onyeka Okongwu is the most talented player left on the board and a sure bet to have success in the NBA.
Once overshadowed by the Ball Brothers' hype at Chino Hills, Okongwu came into his own in just one year at USC. His motor, finishing ability, knack for rebound positioning, and rim protection make him extremely attractive to a team that is currently starting Cody Zeller at the five. Moreover, Okongwu can pass the ball well for a big and handle it to some degree. He's undersized and lacks a consistent jumpshot, but his defensive presence makes him a solid pick for the Hornets.
Ceiling Comparison: Ben Wallace with an offensive game
10. Phoenix Suns: Isaac Okoro
(Auburn, Fr., F)
The suns have a pretty solid roster, and Okoro could be the missing piece that'd push them into the playoff picture. Okoro is a positionless, versatile playmaker who could fit just about anywhere in the depth chart. He has elite athleticism and solid playmaking. He can lock up guards on the perimeter and comfortably guard 1-3 and even 4 or 5, with varying levels of success. He doesn't have much of a jumper, but his defense makes him valuable to teams wanting to get over the play-off hump.
Ceiling comparison: Caron Butler
11. San Antonio Spurs: Aaron Nesmith
(Vanderbilt, Soph., SF)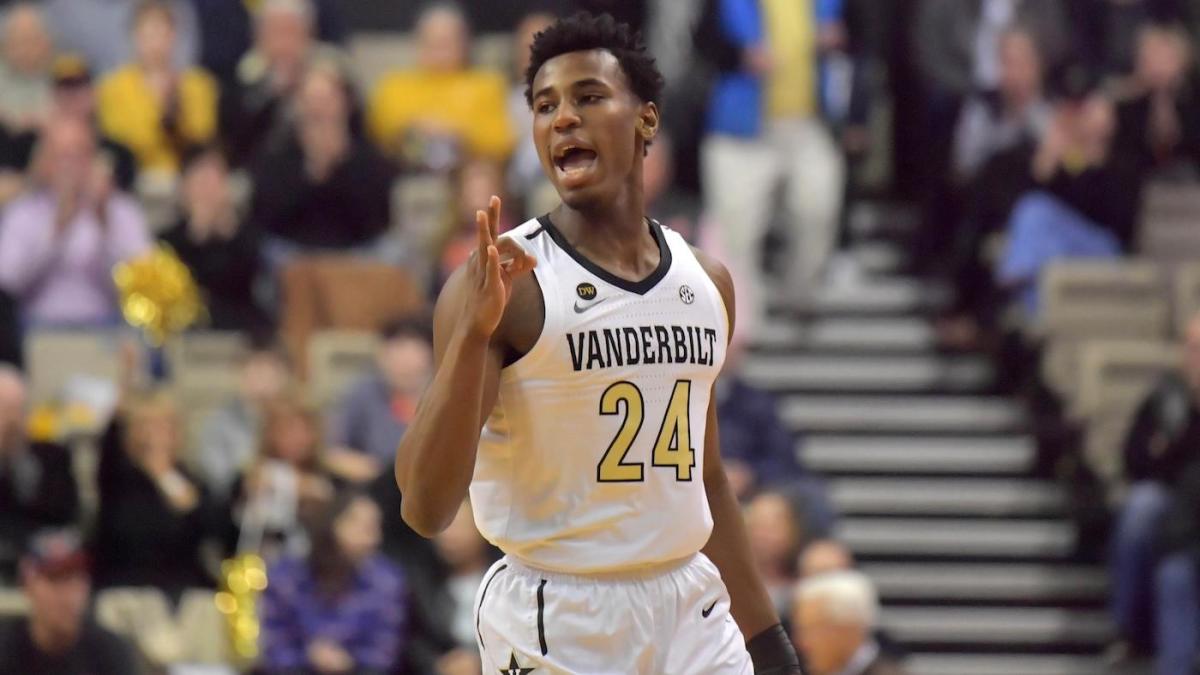 Aaron Nesmith put himself in the lottery, playing only 14 games in his sophomore season at Vanderbilt, through his lights out perimeter shooting. He shot 52% from beyond the arc on 115 total attempts. He has the potential to cook defenders off screens with his shooting. His basketball IQ and intangibles are also very appealing to teams looking for a solid role player. He struggles to make reads and defend quicker guards, but under the tutelage of Popovich and after a few seasons in the Spurs player development machine, he could become a force to be reckoned with.
Ceiling comparison: Klay Thompson
12. Sacramento Kings: Saddiq Bey
(Villanova, Soph., F)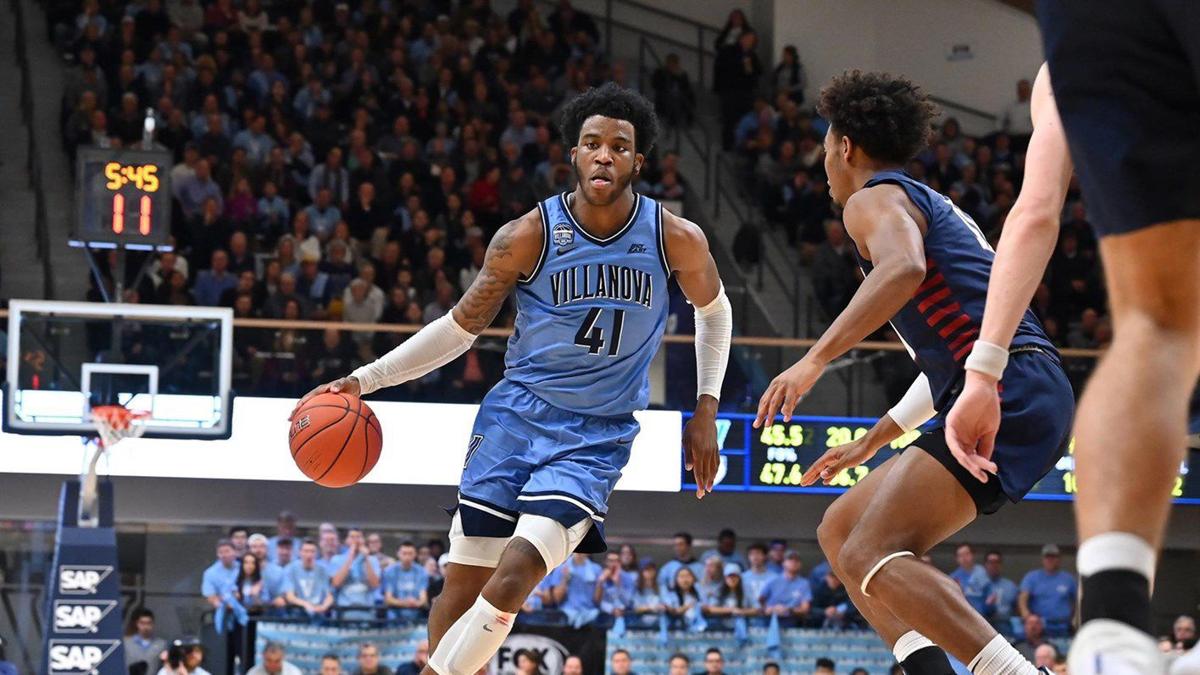 Sacramento has struggled for a very long time now, but the Kings are finally on the rise. De'Aaron Fox is a bonafide star, and Marvin Bagley has the potential to develop into a very good player. They need a surefire, safe option at 12, which is exactly what Bey offers. He's a traditional 3 and D wing (maybe a small-ball 4) who (unsurprisingly) specializes in defense and three point shooting. He lacks offensive explosiveness and shot creation, but he should fit well alongside Buddy Hield and Bogdan Bogdanovic.
Ceiling comparison: Danny Green (Also his floor too)
13. New Orleans Pelicans: Aleksej Pokusevski
(Olympiacos B, Serbia, 18, C)
Who the heck is this? Why does he look like a psychopath? I swear he's a real player. Pokusevski is actually one of the most exciting players in the draft, with upside only matched by LaMelo Ball and Killian Hayes. The 7-footer from Serbia could be an exciting addition alongside the Pelicans' young core of Ingram, Lonzo, and Zion. While the Pelicans desperately need a better interior defensive presence than Derrick Favors, there's no-one left on the board who is good enough to occupy that role. Instead, the Pelicans go for a home run and select the high risk, high reward Pokusevski.
Pokusevski has brilliant passing and a promising jump shot. He's an active defender, frequently using his 7'3" wingspan to disrupt shots on the interior. He can handle the ball well for his size and can even score off the drive. Unfortunately, he's skinny. His wiry frame will undoubtedly get pushed around in the low block by buffer players. He needs to get stronger to have an impact in the NBA. However, the prospect of a Nikola Jokic-Esque player next to Zion Williamson is too much for the Pelicans to pass on.
Ceiling comparison: Skinny Nikola Jokic or Brad Miller
14. Portland Trail Blazers: Patrick Williams
(Florida State, Fr., F)
Patrick Williams' numbers don't pop out, but his versatility and size make him a very intriguing prospect. He can switch very well on defense and his effort on both ends of the floor is unquestionable. He'll be a good bench player right away for an underperforming Blazers team who could eventually develop into a consistent starter.
Ceiling comparison: Robert Covington.
Feel free to comment below with your thoughts!